These tips will help you create a beautiful poster wall
1. Start by placing the posters in the middle and build out: if you want a loose edge and the picture wall should look "random"
2. Start by placing the posters in the corners: if you want a "tight / fixed" picture wall.
3. Do not place posters in the same color shades next to each other: Distribute the colors.
4. Use different size posters: Distribute the sizes.
5. Use different frames: Mix wood and aluminum or use a magnetic poster list for one of the posters.
6. Diversion: Complement your poster wall with a wallcarpet or plant with organic shapes – so that it does not all become wood and metal.
7. The distance between the posters should be roughly the same.
8. Use posters with different printing methods: Mix eg risoprints, linoleum prints and analog prints.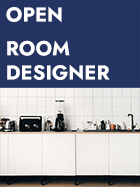 Loading your rooms...
Use posters in different sizes
Mix posters with different colors
Use different frames
The distance between the posters should be roughly the same
Complete your wall with organic shapes (eg. plants) to have diversion